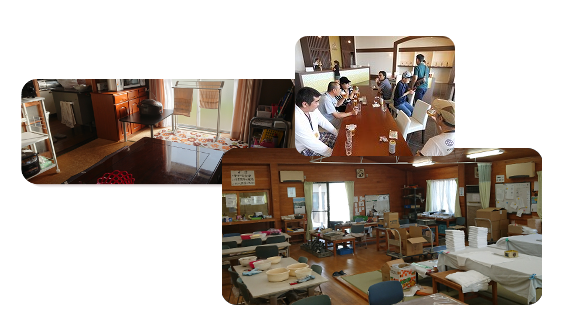 Our projects has three pillars
As outlined top page,Frontier Nakatsu that belongs to the social welfare corporation "Midorikai".
Midorikai has the pillars of three projects.
Those are support for continuous employment type-B "Frontier NAKATSU",group home with aid "Group home SUGINOKO" and community activity support center "Salon KOMOREBI".

Let me briefly explain about our efforts to welfare service business.
Midorikai's three pillars
Support for continuous employment type-B
Frontier NAKATSU
■Our facility's philosophy
触れ合い(FUREAI) - means "interaction with each other,different culture"
語り合い(KATARIAI) - means "heart-to-heart conversation"
励まし合い(HAGEMASHIAI) - means "encourage each other"
■Facility summary
Management agency : Social welfare service corporation MIDORIKAI
Location : 1147-1,Takase,Nakatsu city,Oita,JAPAN
Capacity of facility users : 20 people (Currently 26 people registered)
■Staff structure
[full‐time workers]

Facility director holds the life support adviser : 1 person (certified social welfare counselors,certified care worker)
Service management officer : 1 person (certified Psychiatric Social Worker)
Vocational Training Instructor holds the clerical staff: 2 person

[part‐time workers]

Vocational Training Instructor : 4 person
Part-time doctor: 1 person
■Facility perpose
Our facility is intended to plan the enhancement and promotion of the welfare of handicapped people , And we aim to strictly adhere to the laws and regulations concerning the welfare of persons with disabilities and to develop the life training and social adaptability necessary for independence.
■Support policy
We respect basic human rights, understand each individual user's disability well, find specific goals for social participation with the person, and help them to become independent, to become self-determination.
■Activity content
We respect the basic human rights, respect autonomy, and do the following as a goal.

1, Adjust the daily life rhythm and build up a self-management ability of physical condition.
2, Develop working ability and continuing strength.
3, Consider a person's feelings ,and learn sociability.
A. Working hours

Workday(Monday to Friday)
9:00 - 12:00 (There is a break for 15 minutes between)
12:00 - 13:00 (Lunch break)
13:00 - 16:00 (There is a break for 15 minutes between)
B. Work contents

Fold the shirts and packing,The electricity meters dismantling,The making of WARAJI(Japanese traditional straw sandals).
Electrical components processing,Create cardboard compost,Produce own products such as soap.
Work for ICT (Information and Communication Technology)
Programming [C programming language,JAVA,etc], Web design [html,CSS,Java script] ,Creation work for Spreadsheet, document entries, documents and etc, that using such as "EXCEL", "WORD".
C. Regular activities
Meeting between users and staff (monthly)
Local exchange between people with disabilities(NAKATSU MIDORIKAI,etc)
Welfare service consultation (four times a year)
Sound play -OTO ASOBI- (every month)
Talk with a psychiatrist (twice a year)
Hanami - cherry‐blossom viewing (once a year), Meal partya and excursion (twice a year each)
Group home with aid
Group Home SUGINOKO
"Group Home Suginoko" rents three municipal housing units for a family and operates it as a group home, so it operates in an environment that allows communication not only with each other but also with the neighbors.


The first floor has a kitchen, a living room (dining room), a toilet, a bath and a shared living space in each of the three houses, and two rooms on the second floor are rooms for each person.


All residents participate in cleaning activities such as local gutter cleaning and weeding that there are 2-3 times a year.

Two caretakers are work and support daily life with making meals and consulting.


Meals are served except Saturday and Sunday lunch.
Residents decide on duty for miso soup, salad and rice grinding for breakfast each day ,and prepare by themselves.

In addition, we eat out together with residents and staff after a disaster drill that is 2-3 times a year.




Facility summary


Municipal housing: 3 units

Capacity: 6 men (2 per a house)

By two residents share the separated bath and toilet (washing) .


※ About a minute's walk from "Frontier Nakatsu"


Community activity support center
Salon KOMOREBI
What is the Community Activity Support Center?
Some disabled people living in the community have little opportunity to interact with society and some tend to stay at home.
It is activity of local action support center to support social participation of such a person with a disability.



What is the role of the community activity support center?

Community activity support center is an adult day care where disabled people living in the area, who has physically,mentally and intellectually can use.
Some disabled people living in the community have difficulty in actively connecting with the community, and some are isolated.
In local action support center, the making of place to stay in the daytime and making of purpose of life for such a person with a disability, offer the opportunity to talk about troubles in daily life and have a role in promoting exchanges with the local community.




Community activity support center "Salon KOMOREBI"

>> Place of activity: 1147-1 Takase, Nakatsu City,Oita,JAPAN
The dining room in Frontier-Nakatsu belongs to Social welfare corporation "MIDORIKAI".


>> &nbsp&nbsp&nbspDate and time: Every Saturday from 9:30 am to 3 pm
(If there are 5 saturdays in that month, it will be closed once)


>>Activity contents: They are active as cooking classes and event days each twice every 4 times..
On an event day, we have an event to go out such to visits to the amusement park,factory tour and museums,etc...
On regular saturday except event day,Salon users usually enjoy entertainment such as karaoke, sho-gi (japanese chess) and catch ball,and we offer lunch.


>> &nbsp&nbsp&nbsp&nbsp&nbsp&nbsp&nbsp&nbsp&nbspUsage fee: Although it is 200 yen per use of a salon, only the event day it has obtained 500 yen .






We would like to be a leisure activity for people with disabilities and a place to interact with society.




If you are interested, why not come to play once?